Yes, Leo finally won! But that was probably the most expected thing of the 88th Academy Awards night and I have absolutely nothing more to add to this topic! However, there are plenty of other points that are squirming in my mind and I must express them now. After all, I had to wake up at 5 in the morning here to watch it. That itself is worth a blog post if nothing else!
Enough of #OscarSoWhite
At the start of the night, I did not mind the black jokes by Chris Rock. I liked the fact that the Academy, instead of shying away or feigning ignorance, took the issue head on by recruiting a black comedian and cracking jokes on everyone involved. But it got a bit too repetitive with a constant flow of black jokes, followed by a few Asian jokes. To be honest, I am no longer sure if the whole issue was exaggerated. Only two years ago 12 Years A Slave swept the awards.
Saeed Jeffrey
This is one thing I like about Oscars. They take their heritage seriously. Not only big stars but even deceased film critics and technicians receive an obituary every year. This year's obituary also included our own Saeed Jaffrey. DId any of the Bollywood Awards remember him? Well, I wouldn't know even if they did. I have stopped those awards named after biscuits and mouth-fresheners ages ago.
Indian Presence
Barring the year of Slumdog Millionaire (A film I seriously hated), Indians are rarely seen at the Oscars. There was no Indian winner in any format this year too. However a least two people of Indian origins were in contention. Out of them, Asif Kapadia did win the best Documentary for Amy but Sanjay Patel lost out in the best animated short category. Nevertheless, we had our Pee Cee, presenting a technical award and thankfully not fumbling. Dev Patel was there too, but he agan reminded me of the film I hated.
Glory for Pakistan
However, Pakistan had a genuine winner and it is the second time she has done it. Sharmeen Obaid-Chinoy has now firmly established herself as an important documentary filmmaker of this generation. Here is someone else to be jealous of for Indians, now that their cricketers are no longer what they used to be.
Ennio Morricone
Well, what can I say! He is 87 and unstoppable! Functioning at this age is rare in itslef. Coming up with a Oscar winning score, 10 yeas after winning Lifetime Achievement (which is more of a retirement bonus) is some few could imagine before, let alone accomplish it!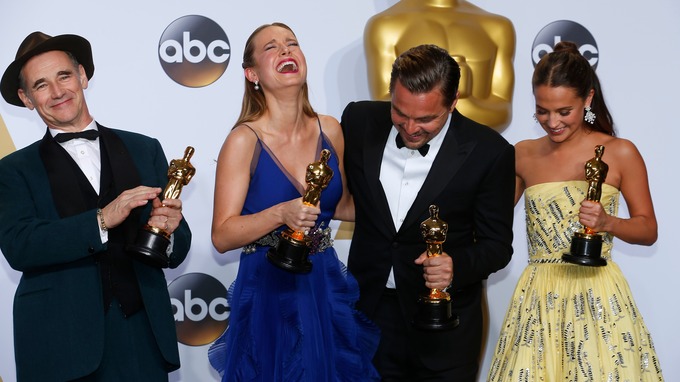 Alicia Vicander
What a year she has had! I did not know this Swedish beauty until recently. She had a few leading roles back home and a few supporting role in international projects. But this year changes everything! Man from UNCLE, Ex Machina and then finally The Danish Girl, which won her the golden statuette! It could not have been more perfect for her but with that kind of looks and talent, I can see her becoming the biggest star of this generation.
The Mexicans
Last few years have witnessed a growing influence of Mexican filmmakers and technicians. The trend continued this year with the wins of Inarritu and Lubezki. What next? Will Inarritu manage a Hattrick or will Cuaron or Del Toro make a comeback?
Script over Scale
Generally the Best Picture goes to epic films. Unlike the European Awards, Hollywood also considers the scale of the production to a large extent. This is exactly why I thought The Revenant will win it. However, this time a subtle newsroom drama with a tight script managed to get past them.
Bond Song
This was probably the lowest moment for me for the run of the show. That insipid bond song won it? Why? It was probably the most uninspiring Bond songs I had ever heard! Many Bollywood songs were better than that, not that they will ever get it!
My Predictions
Now, the time to brag a bit about my predictions! Yes I got the Best Picture winner wrong. Spotlight was my second pick after The Revenant, nevertheless I am happy that it won. My other pleasant surprise was the win for Alicia Vicander as well as for Ex Machina winning for best Visual Effects over big budget films. I predicted for 16 categories and had 10 correct and 4 others where my second favorite won. Not bad for a first time attempt. Don't you think?